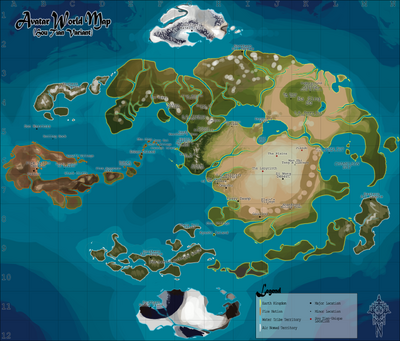 The full view of the Hou Tian map is available: here.
Playable Locations
Edit
The following are a complete list of playable locations found in Hou Tian.
To the North
Edit
The North Pole
Edit
The Northern Water Tribe
The Spirit Oasis
The Tundra
South of the North
Edit
The Seedy Merchant's Pier
Makapu Village
The Abbey
Gaipan
To the East
Edit
The Upper Ring
The Middle Ring
The Lower Ring
The Underground
The Si Wong Desert
Edit
The Plains
The Labyrinth
Jibade
East of the Continent
Edit
The Eastern Air Temple
Full Moon Bay
Heart of the Land
Edit
Serpant's Pass
The Abandoned Mining Town
The Great Divide
The Western Earth Kingdom
Edit
Senlin Village
The Ruins of Taku
The Mining Village
Omashu
To the West
Edit
A Little More North
Edit
The Western Air Temple
The Boiling Rock
The Sun Warrior's Ancient City
The Fire Nation Capital
Edit
The Crater
The Royal Plaza
Harbor City
The Inlands
Edit
Ember Island
Roku's Island
Fire Fountain City
The Edge of the Fire Nation
Edit
Crescent Island
Jang Hui
Shu Jing
The South
Edit
The Southern Earth Kingdom
Edit
The Foggy Swamp
Gaoling
Chin Village
The Island of Kyoshi
Whale Tail Island
Edit
The Base of the Southern Raiders
The Fishing Port
The Patola Mountain Range
Edit
The South Pole
Edit
The Southern Water Tribe
Kuruk's Caverns
The Tundra
Ad blocker interference detected!
Wikia is a free-to-use site that makes money from advertising. We have a modified experience for viewers using ad blockers

Wikia is not accessible if you've made further modifications. Remove the custom ad blocker rule(s) and the page will load as expected.